Watch! How Advanced Training Can Take Your Rideshare Business to the Next Level
Proven, Actionable Strategies to Help You Earn More and Spend Less
Maximum Ridesharing Profits is an online training resource created to help you reach your fullest earnings potential. Whether you are a 1,000 ride veteran or a new driver looking to get a strong start, this course offers the expert-level knowledge and tactics that you need to thrive.
 You will get an in-depth look at every aspect of the rideshare trade, taught from the perspective of veterans who have continued to stay at the top of the rideshare game despite frequent changes to the industry.
What's Inside This Course:
Expert Training from The Rideshare Guy and Jay Cradeur
Video Lessons Covering Rideshare from A to Z
For All Drivers: Beginner and Advanced Strategies
All the Training You Need to Succeed!
Here's Why 68% of Drivers Quit Within 6 Months
There are definitely some wild extremes in rideshare! A study by Uber found that within 26 weeks of giving their first ride, 68% of drivers were considered inactive. 
Yet many other drivers stick around for years and earn a reliable income. Successful drivers also use the experience to branch out into other on-demand apps and business opportunities.
Why is that so many drivers don't make it?
#1 Treating rideshare like any other job
Rideshare is no 9-5! You can't max out your earnings if you only clock in and out without thinking strategically about every day that you drive. The most successful drivers study where passenger demand is, and that's often at times when other drivers won't want to drive.
#2 Taking any ride that comes along
It's easy to sign in and accept every ride that the app sends you, but that's a great way to achieve mediocre profits. You need to approach each ride with a critical eye. That means mastering the pay system of each app,avoiding unprofitable rides, and optimizing for bonuses. 
#3 Customer service slip-ups and burnout
When it comes down to it, rideshare is a service job. You need to keep your passengers happy, but you need to stay sane too! Mistakes can hurt your customer ratings and put you at risk for deactivation. There are clever ways to deal with passengers without having to bend over backwards. Big hint: One of the biggest ways to please your customer is actually about how you drive, not about how you talk.
#4 Not treating rideshare like a business
As a rideshare driver, you are actually the sole proprietor of a small business. If you're only looking at payments from Uber and Lyft, you're not seeing the complete picture of your finances. To reach peak profits, you need to track all of your income and expenses, diversify your income, and master your taxes.
#5 Not enough flexibility, no plan B
Change is a constant in rideshare. You need to learn how to adapt, overcome, and diversify, and always have a plan B. As drivers who have been in this industry since 2014, we know how to stay alive!
We Found Success With These Methods:
"Insights from 10+ combined years in rideshare"


We're sharing Maximum Ridesharing profits with you because we are confident it can help you succeed in rideshare. 
This course is designed to help you achieve your rideshare goals. It can help you get a reliable side income, or build up to a full-time living.
It's the outcome of our trial by fire: Tens of thousands of rides given during years that had app changes, pricing changes, and changes to the law. We've survived it all and come out on the other side to give you what we wish we knew years ago. 
Maximum Ridesharing Profits gives you the massive benefit of our many years of experience!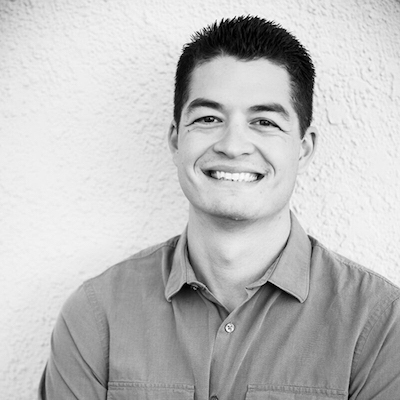 Harry Campbell - The Rideshare Guy


I've been in the rideshare game since 2014, and you know me from my blog TheRideshareGuy.com, and you've seen me in The New York Times, CNBC, and The LA Times. I'm all about my motto: "Work Smarter, Not Harder."
I'm super proud of Maximum Ridesharing Profits. It has all my best advice distilled into one resource. This course is the fastest way to catch up to speed.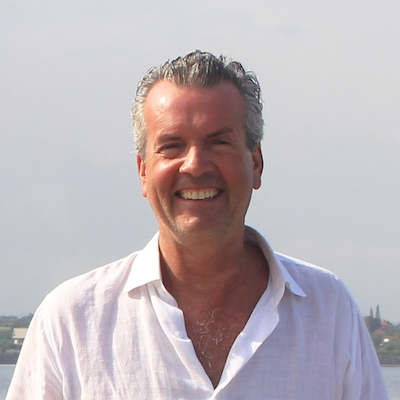 Jay Cradeur - Rideshare Veteran With Over 26,000 Ride
Rideshare gives me the lifestyle I want and the income I need. Even with rate cuts, app changes, and shifts, in the market, I've not only survived, but thrived.
I made this course so you don't have to spend time and money making the same mistakes I did. If I had one place where I could learn everything I needed to know about rideshare I could have made so much more, faster.
All students who successfully complete Maximum Ridesharing Profits will receive a Certificate of Rideshare Mastery. Share your accomplishment!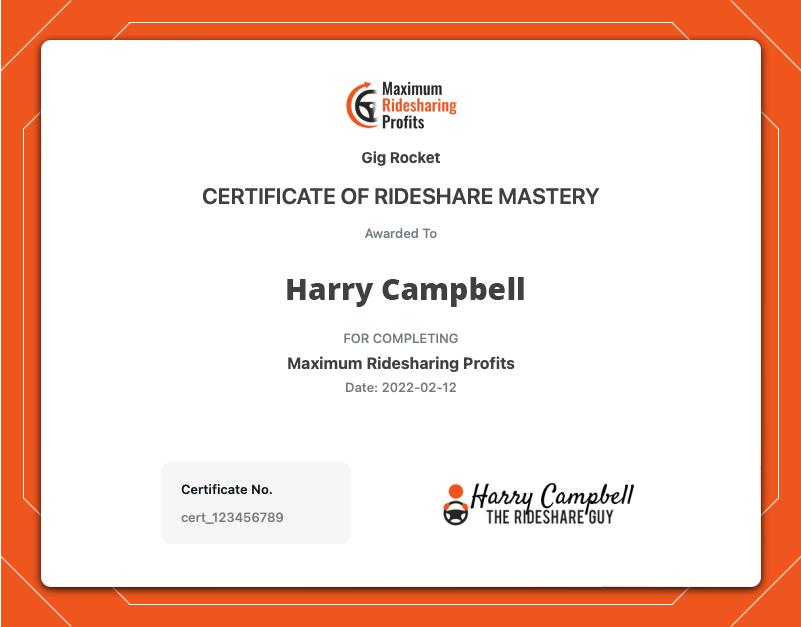 Driver Reviews
"The whole course shed a bright light on this business. Your guidance really lights the way and dramatically shortens the learning curve."
— Pastor Tim H
"Thank you for taking this time to build this course. Very helpful and worth the price."
— Michael V
"I thought that the course was phenomenal! You guys pretty much covered everything that I could think of."
— Jamie Brent
"I thought it was great, Harry ! I learned plenty, and you guys did a great job of presenting. Thanks so much for doing this....highly recommend to drivers regardless of experience!"
— John in Topeka, KS
"Thank you for providing me with the opportunity to renew my interest and education in the rideshare experience! After listening to your course, my confidence has begun to rise and I will be behind the wheel with your course as my foundation!"
— Salvatore O
30 Day Money-Back Guarantee
If you're unsatisfied with the course for any reason, you can get a full refund on your order within 30 days of purchase. We stand behind this course!
FAQs
Why is this course worth my investment?
Maximum Ridesharing Profits will help you become a more profitable driver. Becoming a more profitable means earning more from your rides, diversifying your income, cutting your expenses, and saving on taxes. You will learn how to treat rideshare as a business, not just a casual gig. It's a worthwhile approach – We have used rideshare to make real, sustainable incomes and we know you can too!
How is this different from your other videos and articles at The Rideshare Guy?
Our other videos and articles cover one topic at a time, but don't have typically include the bigger picture view that ties everything together into one system that you can easily follow. Our normal videos and articles are for everyday browsing, while Maximum Ridesharing Profits is for more serious study.
Maximum Ridesharing Profits is all about approaching rideshare as business. It does two things really well: It takes a larger view of rideshare as a whole, and it also has deep dives into specific tactics. It includes only the best, time-tested material. Instead of spending weeks combing through other videos and articles, Maximum Ridesharing Profits is structured to bring you to expert level in just a few viewing sessions. 
What if I'm just getting started as a driver? Will this course work?
This course is perfect for beginners! We wish we had a course like this when we first got started. It walks you through all the things you'll need to know to get a strong, profitable start. You'll skip the early mistakes that most other drivers spend months or years making.
What I've been driving for a long time? Will the tactics be relevant?
Advanced drivers will get a lot of value out of this course. Our advanced tactics section will help you approach rideshare with the analytical mind of a serious business owner. We'll help you look at your current driving routine and identify ways to add extra revenue and cut unnecessary expenses. Your business can absolutely been improved, even if you've been driving for years!
How long is the course?
There are currently 39 videos in the course covering every angle of ridesharing. We recommend breaking up the course into several 30 minute sessions so you can take time to absorb all the information inside.
Can I watch this course on my phone? Are there closed captions?
The course is optimized for both desktop and mobile users. Past students have told us that they watch course videos on their phone in between rides!
Closed captions in English are included for each video.
How does the refund policy work?
We offer a 30-day full refund policy. If you're unsatisfied with the course for any reason, simply contact us and we'll refund your order ASAP. To request a refund, contact us here.
How can I contact you?
You can reach us on our Contact Us page.